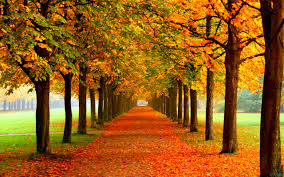 Fall, Letting Go and Miracles

As I write this, the wind is whipping through the trees and the leaves are glistening in the sun's reflection. When the time is right, the leaves will let go and fall to the earth, becoming compost as Nature moves through her natural cycle of dormancy, renewal and growth. What a miracle it all is.
Indeed, every moment is a miracle, never before has it happened and never will it happen again. And there is so much pleasure to be had in the midst of it. I've been enjoying an ancient Tantric yogic text lately called

The Radiance Sutras

. From Sutra #79:
Contemplate the entire universe
As a magic show
On the grandest scale imaginable.
Fabulous art, an immense painting in motion.
God is a magician whirling galaxies of fire,
Juggling atoms, planets, and us.
Everything, everything is fleeting.
Meditating on this magic,
Great happiness arises in the heart.
My practice these days is to pause and feel the incredible and mysterious pleasures of being alive - the taste of warm tea in my throat, the feeling of a hug from a loved one, and the sense of satisfaction after completing a challenging task. Life is for living, feeling and experiencing, afterall! And our yoga practice can help remind us of this - the pleasure of a deep breath, the comfort of child's pose, or the sense of vitality in a warrior pose.
To experience this pleasure though requires us to let go of limiting beliefs and stories that bind us into thinking that we're not enough, that this moment isn't quite right, or that we don't deserve pleasure. So, we practice letting go on the mat. And, through this practice, and with a little help from Grace, we may find ourselves in the midst of our lives letting go of a habitual pattern that may have held us back for a very long time. And, what a miracle that can be!

I invite you to find your practice, your pleasure, your self-care, one that works for you and moves you toward your highest good, whether it is on the mat with me, at your neighborhood temple, your local state park, or in the midst of the wildness of your everyday life.

Read further for upcoming events. Also, if you are on Facebook, please click the link on the right and "like" my page and share it with your friends. Thanks and namaste, Loretta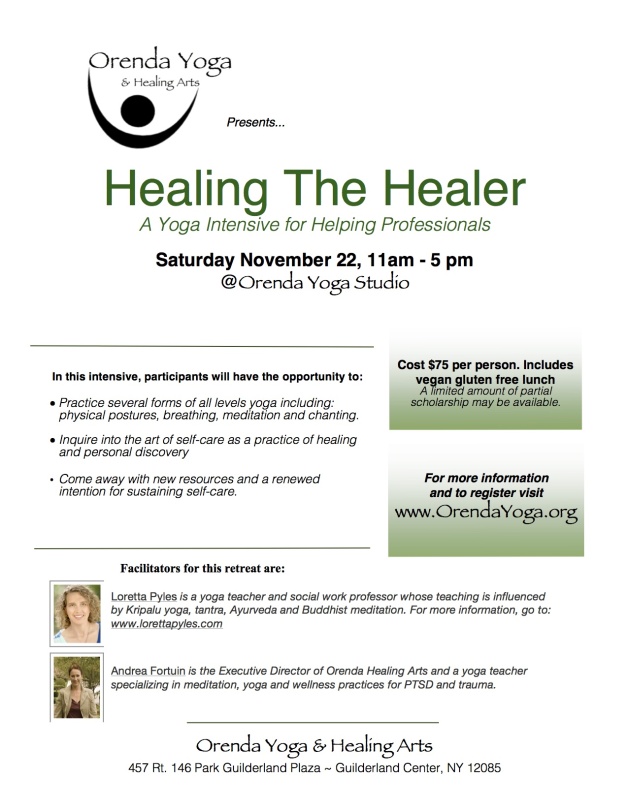 Winter Diving Deep Retreat/Workshop
"Snow was falling,
so much like stars
filling the dark trees
that one could easily imagine
its reason for being was nothing more
than prettiness."
― Mary Oliver
Winter is a time for going inward, and it is a fantastic time to deepen your meditation practice and find greater stillness. I will be offering a "Diving Deep" retreat focused on meditation (will include some yoga) this Winter. Stay tuned for dates and details.