Finding Your Sabbath
Many of you know that I am on sabbatical this year from my academic position at the university. It is such a gift that sometimes I can hardly believe how fortunate I am. A friend reminded me this past summer that the word sabbatical is related to the word "sabbath," which comes from the Hebrew word meaning "rest." Virtually all cultures and spiritual traditions have some notion of a sabbath, usually once a week. This is sacred time set aside for abstinence from work and spiritual observance. Okay cool, but a whole year of it? It's a little more challenging than one might think (I know, first world problems). But we live in a culture where we are not so good at "abstinence from work" and rest.
Indeed, I find myself feeling quite driven a lot of the time - writing my next book, working on a research report, planning the next workshop, the list goes on. But, what about rest and spiritual observance? This is what I am trying to make front and center in my life - regular meditation, chanting, slow walks in the woods, and probably the most challenging of all is just to hang out and be. These are the moments during the day where I am just drinking a cup of tea or sitting on the couch enjoying the company of a cat or dog. But, there is a voice that appears and says, "you should be doing something productive." I'm curious about the belief that underlies this, the idea that my worth is somehow wrapped up in my accomplishments. So I find my practice has been to notice the karmic momentum toward work (nothing wrong with work, of course). When I notice this I settle back into my body, and see what it is I really need in any given moment. Sometimes it's a break, sometimes it seems more right to work. But, just pausing to notice and investigate is powerful. It plants seeds of spaciousness and mindfulness.
So, what about your sabbath? If you don't have a sabbath, try to find one day a week when you give your senses a rest from the onslaught of images and experiences we are inundated with. And for goodness sake, if it's possible, don't do any work! Take an internet fast, turn off your phone, say "no" to excessive activity and get curious about who you are when you are not striving and reaching outside of yourself for something. It's a beautiful practice and good for body and mind. Once you feel rested you are in a much better position to nurture your relationships, build community and find greater satisfaction in your work.
Thanks for listening and please read on to learn about happenings in this little corner of the healing, yoga and meditation world. I hope to see you soon. Namaste, Loretta
Healing the Healer Retreat
The Healing the Healer retreat is about half full. If you or someone you know is a helping professional interested in taking a day to practice yoga, meditation and self-care, you can register at the Orenda Yoga website. I'm co-facilitating this day with Andrew Fortuin who is owner of the studio and has lots of experience and knowledge about therapeutic yoga and yoga for trauma survivors. See flyer below for more information.


Diving Deep Winter Solstice Retreat

I'm really excited to announce this yoga and meditation retreat on Sunday, December 21st from 9:30-4:00 at Strawberry Lane yoga.
This day-long yoga and meditation retreat in a rural mountainous setting will be a great opportunity to go deep into your practice by taking advantage of the stillness of winter. In this workshop we will:
-Engage in a flowing physical yoga practice to build warmth and release tension in the body
-Engage in deep breathing, sitting meditation, outdoor walking meditation, chanting and stillness-oriented yoga postures
-Engage in personal and group inquiry focused on reviewing your year and setting intentions for the new year related to your health and spiritual growth

*Cost is $55; $40 for students and low-income
**Bring pen and journal and any yoga props you like to practice with
***Vegan lunch is included

Space is limited and pre-registration is required. You can mail your check directly to Loretta Pyles at 53 Strawberry Lane, Westerlo, NY 12193. Please include your e-mail address.
See flyer below for more information.
Click here to register now!

Hilltown Yoga Updates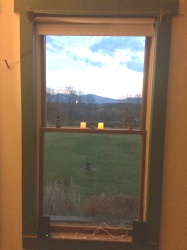 We continue to have a committed group of yoginis at both Saturday morning and Tuesday evening classes. With the time change, Tuesdays are now "candlelight yoga." I took this picture yesterday right before class started. This class offers a great chance to breathe, stretch and de-stress from your day.

Also, I wanted to put out there that on Saturday, November 22 I will be teaching a retreat in Guilderland so teaching the usual 9:30 class won't be possible that day. I would be able to teach at 8:30 that morning if people would be interested in an early class that morning. If not, we'll just cancel that day. Let me know your thoughts on that and I will make a decision in the coming weeks. Thanks for all of your support Hilltowners!