Happy New Year, Friends!

It's the time of year to re-align with our life's purpose and our highest intentions for ourselves and the world we share. I find that throughout the year I can get disoriented, bogged down, and full of doubt. But, it's my faith in the power of spiritual practice that continually lifts me up and re-directs me. And so, this time of year is very special because we can assess, commit, and do that which keeps us whole and helps us to grow. For many of us whose work focuses on the community or helping others, we know that we must continually re-new and re-commit again and again to our own spiritual growth, for the world needs us now, perhaps more than ever.

All of this work must be guided by compassion for ourselves. There is amazing research coming out in recent years on the power that self-compassion practices can have on our health and mental health and our ability to be empathetic and act positively in the world. Because many of us find that we are challenged to be kind to ourselves, a big part of spiritual practice for many of us in the modern world is, as the poet Galway Kinnell says, "to reteach a thing its loveliness." He writes:

The bud
stands for all things,
even for those things that don't flower,
for everything flowers, from within, of self-blessing;
though sometimes it is necessary
to reteach a thing its loveliness,
to put a hand on its brow
of the flower
and retell it in words and in touch
it is lovely
until it flowers again from within, of self-blessing

May we put our hand on our own heart and remind ourselves of our infinite and timeless beauty.

Below I share a few happenings in my corner of the world. I look forward to continuing this journey together.

Many Blessings, Loretta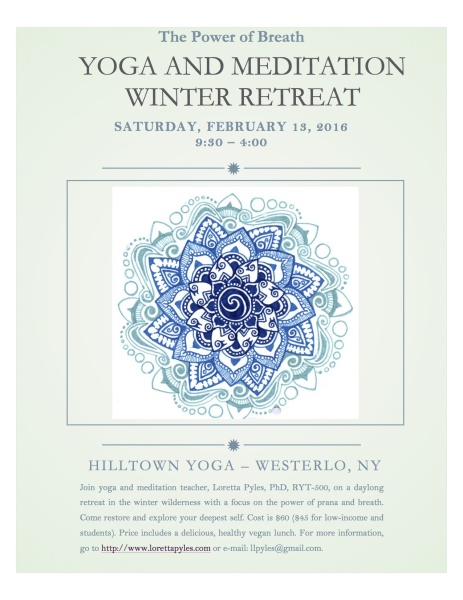 Join yoga and meditation teacher, Loretta Pyles, PhD, RYT-500, on a daylong retreat in the winter wilderness with a focus on the power of prana and breath. Come restore and explore your deepest self. Cost is $60 ($45 for low-income and students). Price includes a delicious, healthy vegan lunch.
Our focus for the day will be on the observation, cultivation, and retention of breath. We will do all-levels yoga in the morning followed by breath practices, meditation, and self-inquiry throughout the day. There will be time to go outdoors and walk on the trails. We will have tea breaks and a lunch break.
Hilltown Yoga is located in the beautiful Helderberg Mountains overlooking Windham High Peak in the Catskills. The retreat space is on 7 acres with access to a hiking trail and Eight Mile Creek.
For more information or to register,
click here
.
---
I'm pleased to announce the publication of Holistic Engagement: Transformative Social Work Education in the 21st Century (with Gwendolyn Adam).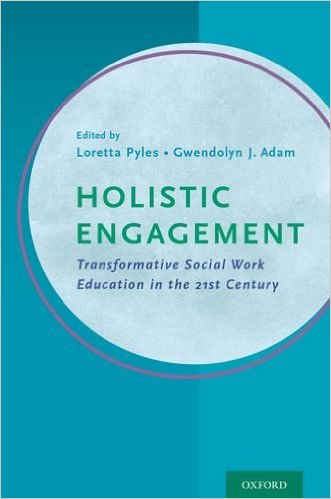 From the book description:
"This text offers innovation and a call to action for educators -- engage fully to engage students fully. With stories from the classroom, Holistic Engagement invites and challenges social work, human services and counseling educators to seek meaning in their methods and content in the processes of teaching. Empirically grounded, the authors propose a new model for advancing pedagogy to draw from many ways of knowing and wisdom across traditions. Through rich analysis of globalization, higher education and the social work profession, as well as first person accounts, they co-create a story of holistic pedagogies being employed across the globe.
Aiming toward transformative social work practice, the authors discuss the ways that they engage with the whole person (body, mind, heart, culture and spirit) and reveal how such participatory pedagogies strengthen presence, attunement, empathy, professional self-care and the integrative capabilities of social work students and human service professionals. Drawing from a wide range of literature and traditions, from Freire's critical pedagogy to the neuroscience of mindfulness, these engaging essays have much to offer both seasoned and new social work educators, while creating an integrative and realistic conceptual home for them.
The authors discuss the uses of theatre, the arts, ritual, mindfulness, critical dialogue, yoga and many other methods that upend the traditional social work classroom. These approaches are used at the undergraduate and graduate levels in a range of courses, including policy, theory and practice. The auto-ethnographical nature of many of the essays will invite educators to reflect on their own pedagogies as they consider the rewards and risks of going beyond the cognitive and engaging the whole person."
---
Current Teaching Schedule
Saturdays, 9:30 a.m. - 10:45 a.m.
Hilltown Yoga, 53 Strawberry Lane, Westerlo, NY
All-levels, Drop-In, $10
---