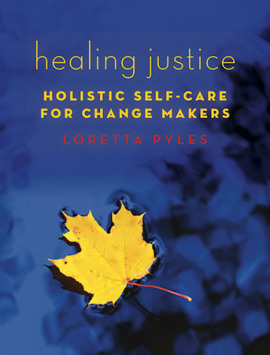 Description
In the context of multiple forms of global economic, social, and cultural oppression, along with historical and intergenerational trauma, burnout, and public services retrenchment, this book offers a framework and set of inquiries and practices for social workers, activists, community organizers, counselors, and other helping professionals. Healing justice, a term that has emerged in social movements in the last decade, is taught as a practice of connecting to the whole self, what many are conditioned to ignore -- the body, mind-heart, spirit, community, and natural world.
Drawing from the East-West modalities of mindfulness, yoga, and Ayurveda, the author introduces six capabilities -- mindfulness and compassion; critical thinking and curiosity; and effort and equanimity -- which can guide practitioners on a transformative and empowering journey that can ultimately make them and their colleagues more effective in their work. Using case studies, critical analysis, and skill sharing, self-care is presented as an act of resistance to disconnection, marginalization, and internalized oppression. Healing justice is a trauma-informed practice that empowers social practitioners to cultivate the conditions that might allow them to feel more connected to themselves, their clients, colleagues, and communities.
The book also engages critically with self-care practices, including investigation into the science of mindfulness, cultural appropriation, and the commodification of self-care. The message is clear that mindfulness-based practices are not a panacea for personal, inter-personal, or political problems. But, they can put practitioners in a more authentic and powerful place to work from, which is particularly important in a world where there is more connection to technology, ideologies, and people who share one's beliefs, and less connection to the natural world, people who are different, and the parts of oneself that one tends to reject. The book also offers suggestions for how to share self-care practices with community members who have less access to wellness.
Book Reviews
Table of Contents
Introduction
Part I: Healing Justice and Whole Self-Care
Chapter 1. Oppression, Trauma, and Healing Justice
Chapter 2. Stress and the Self-Care Revolution
Chapter 3. The Whole Self
Chapter 4. A Skillful Path of Healing Justice
Part II: Holistic Self-Care Practices and Skills
Chapter 5. Connecting to the Body
Chapter 6. Befriending the Mind-Heart
Chapter 7. Rediscovering Spirit
Chapter 8. In the Fabric of Community
Chapter 9. Cultivating Connections between Person and Planet
Part III: Where the Rubber Meets the Road
Chapter 10. The Healing Justice Organization
Chapter 11. Healing Justice on the Frontlines
Chapter 12. Widening the Circle and Coming Home
Endorsements
Healing Justice is a much-needed contribution to the field. Dr. Pyles explicates the connection between contemplative practice and social change in an innovative and accessible way. In particular, she explores how capitalism and patriarchy infiltrate our psyches, often without us realizing it, and how contemplative practices can raise our awareness of this dynamic. This awareness can liberate us from the internalized oppression that so often obstructs effective social change work. A wonderful resource for activists, community organizers, and other change makers.
- Maia Duerr, MA, author of Work That Matters: Create a Livelihood That Reflects Your Core Intention
This is a desperately needed book that reminds us that true healing involves both self-care and social justice work to address the underlying conditions that create stress and inequities. Based on penetrating analysis clearly informed by her own practice, Pyles offers us a new interdisciplinary paradigm that invites us to think beyond the individualism and dualism endemic to Western culture. She skillfully interweaves both practical and theoretical tools to breakdown the false dichotomy between caring for ourselves and our world and provides both hope and specific means for preventing burnout and cultivating resilience.
- John Chambers Christopher, PhD, Fellow of the American Psychological Association and the Mind & Life Institute; Past-President of the Society of Theoretical and Philosophical Psychology; Fulbright Scholar; Founder of the Bozeman Center for Mindfulness
I enjoyed Loretta's book immensely and found I had a smile on my face most of the time I was reading it. Loretta draws nicely on information from social work, neuroscience, mindfulness, yoga, and her personal experience to provide evidence of what it means to be comfortable in our own bodies. The Healing Justice framework, case studies, and practice suggestions also model well the holistic approach she advocates, making it a useful book for students and practitioners alike. This is an important book for change makers to have on their bookshelf.
- Jo Mensinga, PhD, MA, Lecturer at James Cook University, Cairns, Australia
Each semester, I spend more and more time talking with my stressed out, overworked, underpaid undergraduate students about care. Over time, this has extended into taking a minute or two to breathe and meditate at the beginning of class, reminding the students that there are no wrong ways to breathe. Sometimes we laugh. We feel embarrassed. I worry I might be fired for doing this. But as Loretta Pyles points out, it's okay to feel. It's okay to look inward as we look outward, seeing ourselves as a part of a much, much larger whole. There are only a few social welfare / social movement scholars in the country who take a look at the state of our world and practice, in all its glories and blind spots, in the ways Loretta Pyles does. Healing Justice is a revelation, pointing to social work practice at its best, integrating public and private, internal and external selves.
- Benjamin Shepard, PhD, City Tech/ City University of New York; author of Sustainable Urbanism and co-author with Mark Noonan of Brooklyn Tides: The Fall and Rise of a Global Borough