Classes
Current Yoga Teaching Schedule
Saturdays
9:30 a.m. – 10:45 a.m.
Hilltown Yoga, 53 Strawberry Lane, Westerlo, NY

*This is a moderate-level Kripalu yoga class suitable to all-levels
*Drop-ins welcome, cost is $10

To join the Hilltown yoga mailing list,
send an e-mail to:
llpyles@gmail.com
---
Wednesdays
6:30 p.m. - 7:30 p.m. - Kripalu Yoga
Body, Mind & Soul Wellness, 4847 Route 81, Greenville, NY

*All-levels Kripalu yoga
*Cost is $96 for an 8-week class which begins February 15

Contact Loretta for more information - 518-506-7799 or by e-mail



"We must develop our inner being to become love. We may beautify this world as much as we want, but without love, it is like decorating a corpse. To beautify this world we must carry out experiments in love. Only the science of love can bring unity and remove the separation among all living beings."
- Swami Kripalu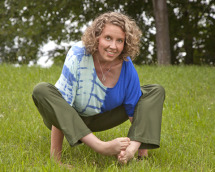 "I have benefited immensely from doing yoga with Loretta at her home studio. She has a wonderful guiding energy and knows how to plan a session perfectly. I have been with her since she started and I have grown in my practice thanks to her continued passion to learn and teach others. If I arrive with aches or if I come feeling fine, I always leave feeling renewed and so happy and grateful she is there to inspire and brighten my day."

"I tried yoga before, but didn't think it was for me.... that was until I took a class with Loretta and I was hooked.  I look forward to each class and leave feeling relaxed and renewed."

"For me, the biggest benefit of chair yoga is that when I am sitting at my desk and feeling stressed or tired, I can practice some of the poses and stretches that we have learned and feel less stressed and re-energized."